How to measure and design your kitchen more quickly and Professionally. The following steps will guide you through:
1. Download the kitchen planning guide which is a total of three pages. The only tools you need are a measuring tape and a pencil.
Click left to download Kitchen planning guide.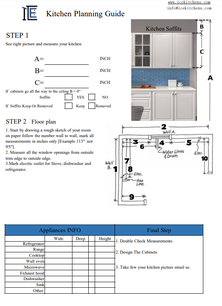 The first page is your kitchen information, if your kitchen has soffit, if you want to keep soffits please mark
Measure from the floor to ceiling include the soffits, mark on "A".
Then mark from the floor to soffit below mark on "B" .
Measure the soffit height and mark on "C". (Not soffit B mark 0")
Measure from the floor to the bottom of the upper wall cabinets Mark on "D"
That measurement info is for us to know how high of wall cabinets you are able to have in your kitchen. we have 30 , 36, and 42" wall cabinets available.
* To reduce mistakes please mark sure every measurement is in inches like 8'2" mark 98".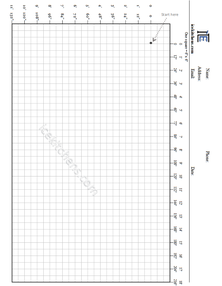 T he second page is your floor plan (one square is 6"x6" EXP: base 24"x24" cabinets will take 4 square)
Measure the kitchen cabinets area, from corner to other corner, if the wall is to long just measure to where you would like the cabinets to stop and add an additional 3- 6" and mark on page 2 (see the example page 3), and measure the window size include the molding.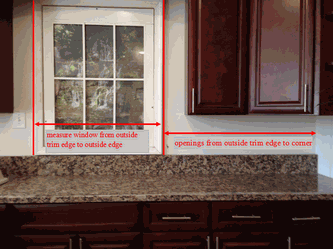 If the window is lower than 36" please note ,because cabinets with countertops are 36". If window is lower the 36" the countertop and will block the window. Also all outlet and light switches must be anywhere 40" - 54" from the floor because cabinets and countertops will cover other wall are
Mark the gas line and water lines drain.
if you want to keep the same design with your old kitchen then just mark the old cabinets size and mark on page 2.
4. Appliances info:
different appliance always make the cabinets different, so you need to measure the appliances and fill out on page 1 of appliances info.
if you want to buy new appliances please check the new appliances size and fill out.
5. Take few your kitchen picture with this planning guide and email to us.
Within 24 hours we will email or call you to let you know your kitchen cost