Note: We do not sell & ship less then 3 items for first order.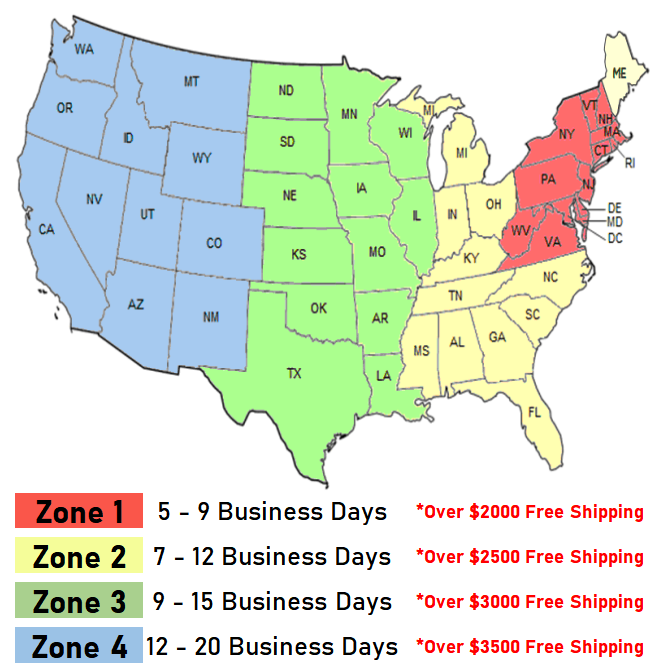 * Check below list for estimate cost if not meet the free shipping or single item order.
Where we ship to?
We ship to the continental USA. See Left map
After you pay for your order, it takes 2-3
business days
for us to get
everything ready to ship out, (RTA cabinets only). Please allow 5-20 business days for trucking company delivery. If part of an order is out of stock, we prefer to ship what is in stock right away and send the out of stock item when they arrive with no additional shipping charges. Out of stock items will be noted in bold on the order page.
Out of stock
items typically are back in stock within 1-4 weeks with a maximum of 6 weeks out. See right picture for estimate delivery time.
Shipping Type
Usually we ship via commercial freight carrier, Small order by UPS or FedEx
If you order is shipped via a commercial freight carrier, must work with the carrier regarding a delivery time; the carrier will not work around your schedule. The shipment will be delivered to the curb or driveway. delivery trucks are large, and have limitations in some geographical areas.

Shipping Damages/Missing item
We make every effort to ensure that your cabinets get to you without any damages/missing, but------ You should identify any damages when the delivery arrives, please make a note of it on the proof of delivery slip and have the driver sign off on the form. We cannot file any claims with the trucking company if we do not have this proof that they were delivered damaged or missing. Take pictures of the damages and fax or email us the slip and contact us ASAP. Once this documentation is received, we will begin the process of replacing the item immediately. All claims must be received within 7 days of delivery.